Monday, September 24, 2012
I thought that I've lost this blog forever, since for over 2 months this page was over ride by a ripway.net page. I've emailed blogdrive admin to no reply, so after blog-less for a while, I decided to open a new one. Imagine my surprise when this blog suddenly active again.

Well, I've made the move so I think I'll stay at the new address.
Tags:
written by ryschia at 03:06 pm
Tell me something... Permalink
Tuesday, July 17, 2012
setelah melalui beberapa hari tanpa tidur berusaha mensupport si bocah yang akan sidang, detik-detik menuju masuk ruang sidang yang sangat menegangkan (ketemu buku publik Guritno yang bahasa Indonesia, lumayan buat refresher apa itu barang publik, congestion, supply-demand for public goods), dan nunggu sidang 2 jam, akhirnya...

LULUS!

terima kasih banget, Tuhan. adekku dikasih kesempatan untuk hidup (kesadaran ini dateng setelah kecelakaan maut hari sabtu lalu. he was alive because he was able to jump to avoid the car), diberi pembimbing yang ngerti isi kepala anak2 seumur itu (makasih banget PCW, temenku dari jaman kuliah yang juga tau bahwa kakaknya anak ini sama nggak fokusnya jaman kuliah dulu), walaupun udah blank karena beban fisik dan mental masih bisa berfungsi sebelum dan waktu sidang, dikasih penguji yang nggak aneh2, dan akhirnya bisa lulus sidang skripsi dan teorinya.

selamat jadi sarjana ekonomi, mas. kami semua bersyukur nggak henti2nya. we love you, we're proud of you, yes we (especially your mum) could be tough bitches but that's because we want only the best for you.

setelah menyaksikan adegan cebur2an yang dilakukan oleh temen2nya - sekali di danau dan sekali lagi di air mancur, salam2an sama semua, akhirnya rombongan sirkus pulang meninggalkan si SE baru yang mau makan2 sama temen2nya.

gue, aju, mama, dan, yanti kemudian nyari makan karena kita laper banget belom makan sampe jam 2 siang. makan di bakmi golek dewi sartika berasa sedaaaaap banget.... karena makannya pake hati yang lega dan bersyukur.

demikianlah, disambung dengan semua orang tewas tidur seharian. tidur yang juga sangat sedap.

Tags:
family
written by ryschia at 11:21 am
Tell me something... Permalink
Friday, July 13, 2012
My contract hasn't been finalized yet. Per yesterday, I lost access to office email system since the grace period for account suspension has expired.

I understand that I'm mere a little cog in this vast organization. I fully understand that. Still, this makes me questioning myself again. Do I matter to anyone, work wise? Am I just the efficient social planner, is there any value I put to the work?

Two weeks without contract. Pardon me while I sulk here.

Tags:
work
written by ryschia at 07:46 pm
Tell me something... Permalink
Saturday, July 07, 2012
a young life cruelly nipped by a reckless driver.
RIP, Icha.
my brother and 3 of his friends were crossing a street when a car coming fast. one of his friend, his on-and-off girlfriend to be exact, was hit badly and taken to a hospital. about 15 minutes ago my friend Lita send me message asking about my brother's whereabouts. Lita's sister is in the same cohort as my brother and the girlfriend, and she saw on twitter that Icha has passed away. she immediately ask Lita to ask me about my brother.
I cannot imagine the pain that he's feeling right now. I cannot imagine how Icha's mom feels right now. ever since I heard about the news, my tears been trickling. such a young life, only 25, a bright one, has ended tonight.
and I couldn't shake the shudder in realization that my brother's life was spared.
we prayed for you Icha, the moment he told us that you were critical. but God decided otherwise. I pray for strength for your parents, family and friends.
add:
we went to her house around midnight. it was heart wrenching to see the family's sorrow. it doesn't seem real yet to them. she was just there to watch the wedding vow of her cousin, went to a supermarket, got hit by a car, and after few hours, passed away. today (sunday) is the wedding reception, I cannot imagine how a joyous occasion turn to be this sad.
we couldn't keep myself from crying. my aunt and I had a sleepless night, and a gloomy day today. in one hand, we are really thankful that my brother survived without a single scratch (he managed to jump to the street border). in another hand, we see the heartbreaking sorrow of her parents, especially her mom who keep on crying. nothing more heartbreaking that parents that lost their child.
the funeral was conducted early this morning. my brother come back home afterward, and get some sleep before going to the reception, as planned. everybody will be there despite of the tragedy, in memory of Icha, I think.
my brother still hasn't finished the last chapter of his
skripsi
, and the deadline for defending is the july 13th. I don't know what will happen. we all fear that he will dropped out of college. I really don't know what will happen, whether he's in a sound mind to finish this by tonight. his advisor has been very lenient, and I pray that this time, he will indulge him one more time. just so he can get his bachelor degree.
I myself is still in the state of shock, because all of this is so incomprehensible. I'm still struggling to keep my tears from flowing back at church when we happen to sing a song often sung in memorial service.
Tags:
written by ryschia at 11:46 pm
Tell me something... Permalink
got goat? how about goat's brain?
Friday, July 06, 2012
Wednesday was a tiring day. Really. We went all the way to Cibitung to sign off our right to claim a house that was sold around 10 years ago. My parents sold a little BTN house in Bekasi Barat to my dad's uncle, without any formal bill of sale. So this time, the house will be sold again by the youngest child who inherit it to her sister. A little (not so little) drama ensued. After all, this is a Batak family where temper doesn't exactly controllable. Mom somehow got dragged in the middle of family quarrel, much to her regret hours later.
Our route that day was Cibubur - Cibitung - Bekasi Barat - Cawang - Perdatam - Tebet - Cawang. After we finished with the bank, went to another aunt in Bekasi, go back to the bank, drop mom off, pick up another aunt, then off we go to Tebet to eat. They - former Tebet residents - suggest a sop kambing vendor. Hey, I'm not exactly new to this. Nan took me here months ago when she was heavily pregnant
Behold, the glory of sop kambing. My choices are meat and innards. My sister, the big wuss, chose to order nasi goreng from vendor across the street instead. She doesn't eat strange cuts of meat. On the other hand, I've never meet innards that I won't eat. Just before our orders were about to be ready, I saw something wrapped in leaf, like lemper. Turn out it was the brain. I can eat cow brain, so I order one to add to my soup.
All I can say that goat's brain doesn't taste much different than cow's. We happen to get the seat just in front of two boiling pots of soup, so whenever the cover was lifted, we got the full smell and heat of goat. Like goaty sauna... hehehehe...
The soup was good, flavorful, the meat was tender, and it doesn't stink much. The 'secret' ingredient of this soup is the mentega cap onta added to the bowl before the owner ladle the soup. We ordered sate also, and even my sister said that it was good. It was no place to take leisurely meal, as customers waiting to get to whatever empty seat. Try to eat with people waiting and standing behind you was no picnic.
Our meal, 1 order of sate, 3 orders of soup (one order legs, the most expensive item in the menu; one ordered mix meat including eyes; and I ordered meat, innards, and brain), three teas and two orange juices come to Rp. 169,000. Good, satisfying food.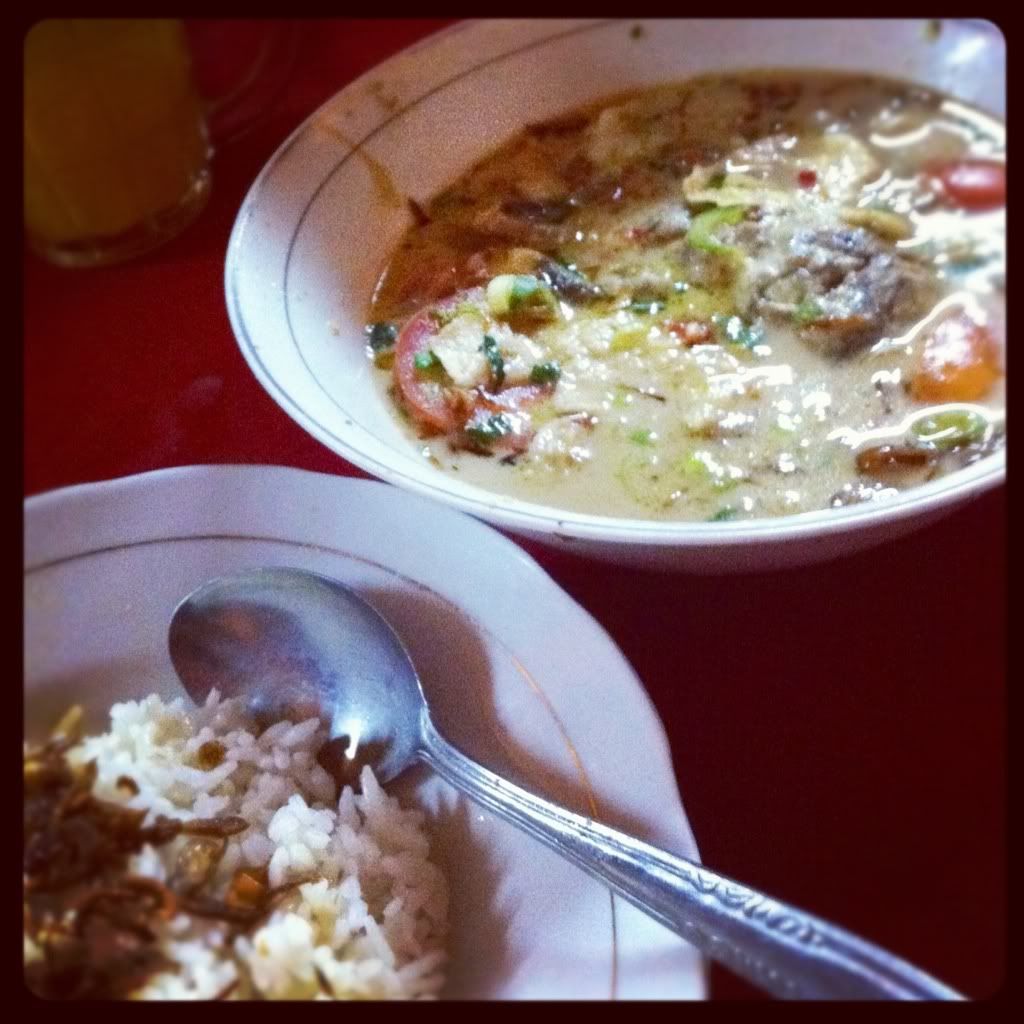 Kedai Estu Rame, Jl. Tebet Barat Dalam.
The seller, Bang Nik (I learned his name from my aunts who lived across the street from this vendor most of their life), usually ask his helpers to identify who ordered the next bowl of soup he's assembling, and will look at you directly. Nan strongly suspected that he's reading some mantra to keep you coming to his stall
My aunts said that even celebrities are regular to Bang Nik, one of which is Achmad Albar. Oke deh tanteee....
Tags:
family
,
food
written by ryschia at 07:28 pm
Tell me something... Permalink
there's a new sherriff in town
Tuesday, July 03, 2012
after much farewell, PE left the country last thursday. we (the four of us, minus pak santo who currently was on a mission out of town), walked him out of the premises. we even waited for his car at the bus shelter. it was bittersweet. my feeling towards him was mixed, but he still the person who hired me fresh out grad school. for that, I'm forever thankful. and he taught me a lot during my 2+ year working for him. but we all agree that changes in leadership is more than necessary at this time.
after so much hugs and see yous and everything, he hop on his car and left. N was trying so hard to fight her tears. while we were waiting with PE, the new boss came walked by and playfully (?) ordered us to go up. the new guy seems like a very strict, goal oriented person. during the last two days of his visit, he made us all go home around 8. but we achieved a lot. he listens to our grovel, to our rants, but he demands output right away.
now I haven't got my new contract, so I'm staying home for the last 2 days. I've got weird dreams... rolling under a truck (I had this dream twice), the last time I woke up before I knew whether I made it or not. scary. the silliest thing was last night's dream, where I bought fish without realizing that it was a tuna longer than a car.
and I don't even like fish
new sheriff, new rule! No snacks (that's his handwriting)
Tags:
written by ryschia at 09:31 am
Tell me something... Permalink
Sunday, June 24, 2012
Thank you Lord for giving me another year.
Pray that as I become older, I grow stronger and wiser.
Ready to listen and slow to speak.
More working less whining.
I am thankful for my health, family and friends.
Was at Bappenas all day for a wrap up meeting - not even my mission.
Finally get back to the office at 7PM, we decided to go to Pat's at Setiabudi. Me, Pat, Ruby and Pak Santo ended up at Mbak Jingkrak.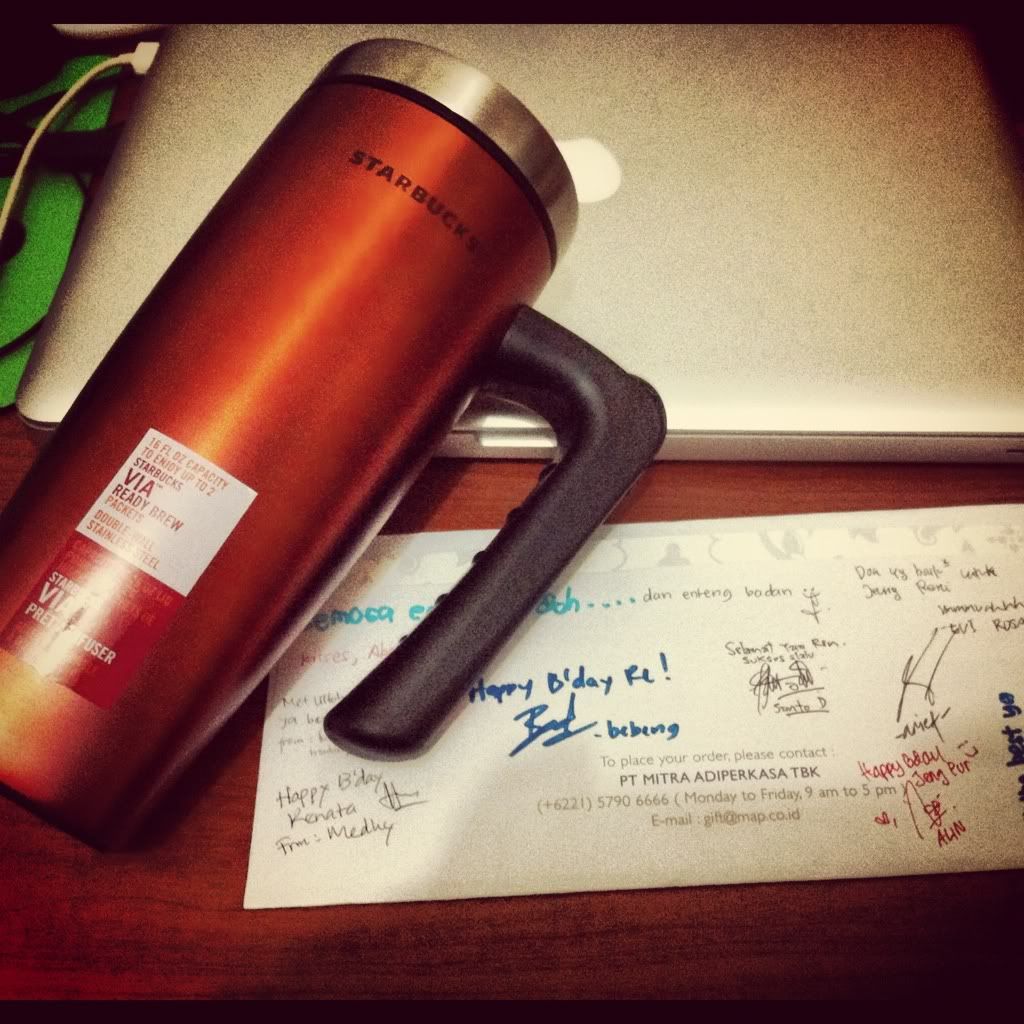 My friends surprised me with these gifts. I only asked for the metal Starbucks tumbler, but I got so much more. Rp. 800,000 more in MAP voucher to be exact
Add with the same MAP voucher I got from home, I have a cool Rp. 1.3 mill in MAP voucher. How come, they know me so well, hahahhaa...
Tags:
family
,
friends
written by ryschia at 09:14 pm
Tell me something... Permalink
Wednesday, June 13, 2012
I went to Nan's house after work to discuss something I need to submit since she'll be traveling the next day. I was so beat and planning to eat first then work.
But then, this. A certain guy wanted me read book together and draw characters from that book (which, coincidentally was a book about book, hahaha).
So I asked for crayon and we start drawing. I drew the huge monkey and the jackass, and he drew the little mouse. According to his judgement, I did okay on coloring since I don't go over the line much. Someday I will be able to color as well as him, that's what he said.
So this is our masterpiece. After drawing, we read the book together. I read the jackass' part - no pun intended, and he read the monkey's part. I was also the mouse. Only after that, and once he got my permission to play with my iphone, then he let me have dinner.
There's no such thing as free dinner. I do have to work for my meal
He doesn't want to be photographed. I took two shots of him holding the drawing before I gave up.
Tags:
kids
written by ryschia at 06:28 pm
Tell me something... Permalink
Thursday, June 07, 2012
why oh why people don't keep their promise?

*at the receiving end of broken promises*

Tags:
written by ryschia at 08:39 pm
Tell me something... Permalink
let's just talk about something I love
Monday, June 04, 2012
I'm still pissed because of many things. Undelivered promises. Incompetent people. Or people in general. So I'll post about the thing that I love.
Noodles. With pork.
Ol introduced me to
Kaca Mata
at Wijaya Center. Never heard about this joint before, and pleasantly surprised with their food. Their specialty, chasiu, is da bomb! Love also the Hongkong-style noodle. I think a portion of noodle with chasiu was about Rp. 37,000. This place was clean, air conditioned, free wifi (!), run 24 hours, definitely a good place to find food after hours. Been thinking about coming back... will do soon.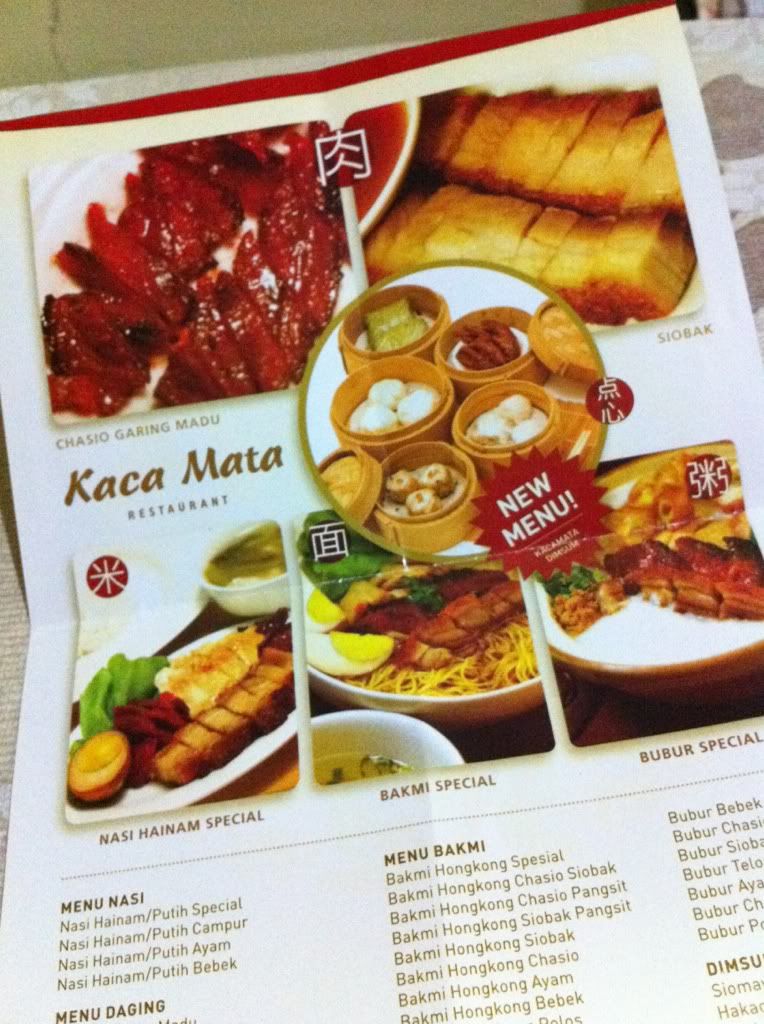 The next one is
Suisen Pasar Baru
on Jalan Gereja Ayam.This one is the old stand-by, as it is church and we often go there for lunch. I usually ordered mie ayam chasiu, and asked it to be made with three meat (chicken, chasiu, panggang) instead.
They also sell nasi campur, but I don't think that I ever bought that since we definitely go there for the bakmi. The noodles are not so skinny like at Kaca Mata, but it was a bit soft (normally I like my noodles with a bite). Go to Raffles nasi campur across the hall to buy egg tarts, and cakwe at a cart on the street. Pasar Baru... love its food, although not much for comfort. Lately we prefer to order to go instead of sitting on the busy restaurant where anybody can smoke.
Now I want them!
Tags:
written by ryschia at 12:14 am
Tell me something... Permalink